"Since the first time I attended IMIA's conference, I quickly realized that this is the conference I prefer to attend on a yearly basis. Attending IMIA's conference has become a professional necessity for me. I enjoy this conference so much!
I feel the professional atmosphere floating around and the collegiality is amazing. I guess I can go on and on, but I do not need to continue stating the obvious. God willing, I will be in attendance to be part of this historic moment when IMIA celebrates its 25th anniversary."
Edgardo Garcia, BS, CMI, CHI
Director, Language Access Services Department
Children's Medical Center Dallas

---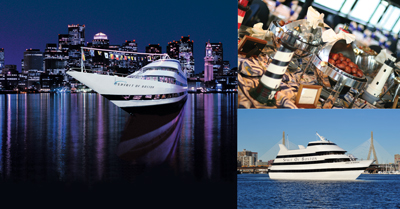 Association's 25th Anniversary Cruise Highlight
Friday, Sept. 30th, 2011
Spirit of Boston: Fun - Festive!
This vessel is casual, with an interactive DJ and dinner buffet and a one hour open bar! Come celebrate the IMIA's 25th Anniversary with style! Bus leaves at 5:00pm on September 30th from Conference Center - the fee includes bus rides from and to the Conference Center, the cruise, open bar for 1 hour. $150 for IMIA members; $175 for non-IMIA members.
http://spiritofboston.com/


---

2011 Keynote Speaker


Yvonne Oswald
is a National U.S. award winning pioneer in the field of personal growth. Voted a 2010 Woman of Influence and Inspiration by the Ministry of Government Services, Ontario, and Chair of the Board of Toronto Youth Day, she is a renowned and respected Communications Trainer and Keynote Speaker, a Certified Trainer of Hypnosis and a Master Practitioner of NLP. Nominated for the COVR Visionary award for her unique CD "Mind Magic"; her way to release negative emotions and limiting beliefs in less than a minute, she has an outstanding reputation for her exciting, innovative and interactive seminars. A British born, qualified teacher with 20+ years' experience, Yvonne helps every audience (live, radio/television) clear issues and quantum leap their personal growth and life choices. Her best selling book, "Every Word has Power" was published by Atria/Beyond Words, who brought you The Secret.

Media: A regular on local radio and TV in Toronto, Yvonne has also appeared on AM Northwest USA, Channel 11, Eye on Toronto, City TV, The Steven and Chris Show, Canadian Business News Network, Women's Television Network, Global News, MTV and CFRB, AM640 and CBC Radio, as well as weekly US Radio shows. Print articles include Martha Stewart's Body and Soul, (LA), New Way Wellness magazine, Great Health magazine, Bodhi Tree's "Evolve" Magazine, T &D and the Globe and Mail.
Corporate: Corporate clients include IBM, Boeing, ITSMF, Rogers TV, Toronto School Board, Toronto Science Centre, Ontario Dentists' Association, Women's College Hospital, Remax Real Estate, Spelling Bee of Canada, Toronto Police Services and California State University.
---

2011 Welcome Speaker



Marion Boers
was elected president of the International Federation of Translators (FIT) in 2008, after serving on the Council since August 2005, and is also Executive Director of the South African Translators' Institute. She is an accredited translator and editor who holds a BA in languages from the University of the Witwatersrand in Johannesburg and a Postgraduate Diploma in Translation from the University of South Africa (UNISA). She began her career in the South African government language office, and four years later started a freelance practice. She has been on the executive of the South African Translators' Institute since June 1989 and became executive director in 2009.
About FIT

FIT is the international federation of more than 100 associations of translators, interpreters and terminologists in nearly 60 countries throughout the world. Through its member associations, FIT represents the moral and material interests of over 80,000 translators on all five continents and promotes professionalism in the disciplines it represents.
FIT is also concerned with the conditions of professional practice in various countries and strives to defend interpreters' and translators' rights in particular and freedom of expression in general. FIT is a strictly non-political organization and maintains as a non-governmental organization on the Category A status operational relations with UNESCO as well as close contacts with many other international organizations.
IMIA is a voting member organization of FIT.


---
CEUs
IMIA 2011 Conference attendees will earn:

1.3 IMIA Interpreter CEUs®
8 ATA (American Translators Association) Continuing Education Points (CEPs)The pre-conference workshops
to be held on Friday, Sept. 30th (an additional cost and not included in the basic registration rate) offer the following CEUs
:
Medical Terminology Boot Camp
.8 IMIA Interpreter CEUs®
8 ATA (American Translators Association) Continuing Education Points (CEPs)
Language Access and the Law
.3 IMIA Interpreter CEUs®

Sight Translation
.2 IMIA Interpreter CEUs®

Simultaneous Interpretation
.2 IMIA Interpreter CEUs®

Information regarding the IMIA Interpreter CEUs® program is available at:
http://www.imiaweb.org/education/ceuprogram.asp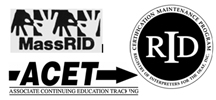 RID

We are able to offer RID CEUs by PINRA for interested ASL/English interpreters. If you would like to earn CEUs, please contact us before the conference so we can give you more information and help you get the necessary paperwork. If you have questions, comments, or concerns for MassRID, contact this email address:
CMP@MassRID.org
Maximum earnable CEUs:
Conference:
up to 0.600 PS CEUs
Pre-Conference Workshops:
up to 0.700 PS CEUs
Medical Terminology Boot Camp:
up to 0.800 PS CEUs
PINRA FORMS
(downloadable PDFs)
- - -
IMIA Conference PINRA Form
IMIA Boot Camp PINRA Form
IMIA Pre-Conference Workshops PINRA Form
---
The conferences held to date have played an important role in documenting and motivating progress in this field, and have drawn the interest of attendees from all over the world. Established experts in medical interpreting practice and policy have strongly supported these meetings as an opportunity to share ideas with and lend moral support to each other. National health policy leaders have been invited to participate to share their points of view, and to be educated about the substance of and enthusiasm behind this movement. Newcomers to the field, especially medical interpreters and interpreter managers, have come to learn more about and to gain practical information to take back to their organizations, states & countries.
The format of the conference is grounded in workshop sessions that maximize audience participation, complemented by stakeholder meetings and plenary sessions on key national and international policy issues. IMIA provides the forum for new experts in the field to develop. This conference seeks to facilitate learning as an ongoing, dynamic and social process, and strives to offer engaging sessions in which diverse participants can form bonds, participate as learners and teachers, and feel integral to the learning process.
We believe presenters should make content relevant and meaningful, and offer ways to process information through dialogue, reflection, and application.
---
Additional Documents
>Photos from The Joseph B. Martin Conference Center at Harvard Medical School
>2011 Conference Highlights ~ New Brochure!
>Yvonne Oswald 2011 IMIA Conference Keynote Speaker
>Marion Boers 2011 IMIA Conference Welcome Speaker
>Interpreter Service Provider (ISP) Division Reception Invitation