One of the most important and widely recognized functions IMIA fulfils for its members is the awarding of IMIA prizes and awards at our Annual International Conferences on Medical Interpreting. Being selected by a national and international jury to receive an IMIA prize or award signifies recognition of the 'best of the best' by one's peers around the globe. Please take this opportunity to nominate outstanding colleagues in the field for the IMIA prizes as recognition of their professionalism and to demonstrate their work and accomplishments in advocating for the profession and for the patients who require interpreters all over the world. Individuals are entitled to nominate one candidate per prize. All IMIA members and others are encouraged to submit nominations.
Please send all nominations to: info@imiaweb.org
---
The Recipient of 2021 IMIA Interpreter of the Year Award
Mark Medina Jr.
(They/Them)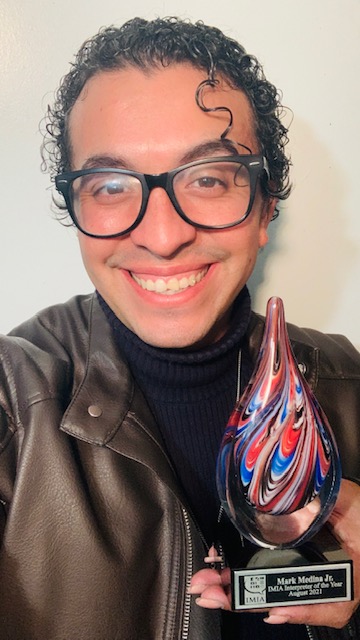 Mark Medina Jr. was exposed to a love of communication and bilingualism at an early age. Their biggest inspiration was their grandmother who learned Spanish for his grandfather and family, showing Mark that anyone can learn another language out of love. Mark quickly found a similar love themselves. 17 years ago Mark had their first experience with American Sign Language and this quickly grew to a love and passion for the Deaf community. Mark committed to a journey of enrichment, education, immersion and service towards becoming an interpreter and so far they are in the final steps fo getting a RID Certification, recently obtain Core-CHI and passed the National Interpreter Exam.
"I believe in full and equal access for all. I believe that as an interpreter, I can bridge often overlooked communications barriers. This is a great honor to receive this reward" – Mark Medina Jr.
---

The Recipient of 2017 IMIA Interpreter of the Year Award
Eleazar Jimenez.

Eleazar Jimenez is a Certified Medical Interpreter (NBCMI) as well as a Certified Electronic Technician (F.I.T). Of Mexican descent and having grown up in California, he witnessed firsthand the injustice shown to immigrant field workers, such as himself and his father. He has lived in Nashville, TN for the past fifteen years and has spent most of that time working in sales management. During that time, however, he began volunteering for lawyers who offered their services "pro- bono", helping those in the Hispanic community who could not afford to pay. He also volunteered to assist those filing with immigration and interpreted for friends and family. He has taken legal and medical interpretation courses with TFLI, TAPIT, and IMIA and has worked as an interpreter for the past five years. He continues to strive to improve his interpreting skills so that he may make a difference by bridging gaps in communication and giving patients with limited English proficiency a voice.
---

The Recipient of 2015 IMIA Medical Interpreter of the Year Award
Kathy Howell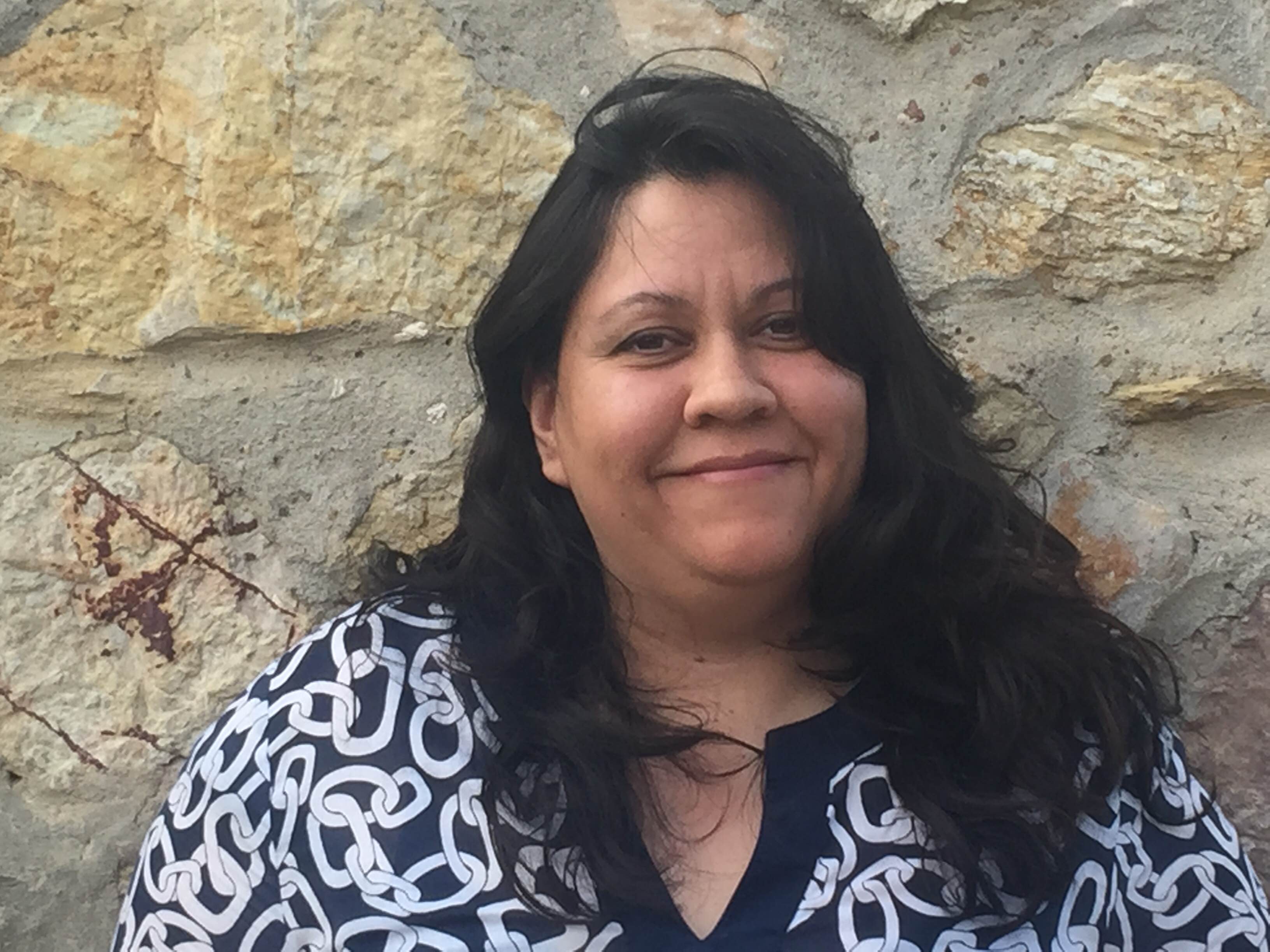 Kathy Howell, CMI works as a freelance, on- site and phone, medical and legal interpreter and translator. She earned her BS in Legal Studies from UMUC Asia in 2005. Her interpretation studies began when she attended the Tennessee AOC Interpreter Ethics and Skills Building Workshop, in 2010, and continued with The 40-hour Kaiser Permanente Healthcare Interpreter Certificate Course - Level I, in 2011. That same year Kathy completed the Tennessee AOC Court Interpreter Intensive Skills Building Workshop, and in 2012, she became a Tennessee Registered Court Interpreter. She became a Certified Medical Interpreter through NBCMI in September of 2011. Her training in translation began in 2010, when she enrolled at NYU SCPS, and earned a Certificate in Translation in 2014. In March of 2010, Kathy became a TAPIT (Tennessee Association of Professional Interpreters and Translators) member. In August she began to volunteer as the TAPIT Healthcare Committee Administrator, and the following month, Co-Chair of that same committee. In October of 2011, Kathy began working with the TAPIT Education Committee, and became its Chair in early 2012. Kathy has been working with the TAPIT Conference Committee since 2011, helping to organize the TAPIT yearly conference. In 2012, she stepped in as Member-at-Large with the TAPIT Board of Directors, when a seat became vacant. She was elected to continue as TAPIT Member-at-Large, by the membership, in 2013. Kathy became an IMIA member in November of 2011, and began serving the Terminology Division (formerly the Terminology Committee) the year following. While serving as the TAPIT Education Committee Chair, Kathy worked to provide continuing education opportunities for the organization's members. With the same purpose in mind she initiated TAPIT's webinar program, which is open to members and non-members. As an IMIA Terminology Committee member Kathy has been participating in the Terminology Database Project. When the database is officially launched users will be able to find medical terminology resources to aid them in their research.
---

The Recipient of the 2011 IMIA Medical Interpreter of the Year Award
Cesar Peña
Medical interpreter at Saint Francis Hospital, Tulsa, Oklahoma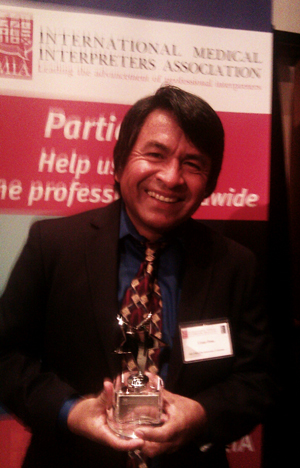 Congratulations!
---
About the IMIA Medical Interpreter of the Year Award

The IMIA Medical Interpreter of the Year Award is the oldest and most prestigious national award program for medical interpreters. This yearly award recognizes an outstanding interpreter and role model across the country. In response to feedback from many IMIA members, from all states, and general conference participants, we have established new guidelines for this year's awards:

Medical interpreters can distinguish themselves in various ways which make them appropriate nominees for this award:

- Belongs to a professional association
- is an effective patient advocate and is comfortable in all interpreting roles
- finds creative solutions to assist patients to meet their needs
- identifies and supports improvements in patient care delivery
- quality of interpreting skills
- interpersonal skills and team spirit
- commitment to continuous improvement of skills
- commitment to professional development
- role model and leadership in the field

NOTE: Nominees do not have to be an IMIA member, and can be from any state of the US or live and work abroad, as this is now an international award.
Please send all nominations to: info@imiaweb.org
---
The Recipient of 2010 IMIA Medical Interpreter of the Year Award
Marta Solis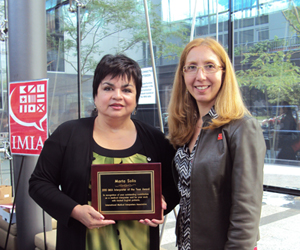 Izabel Arocha with Marta Solis at the 2010 IMIA Conference

---
The Recipient of 2009 IMIA Medical Interpreter of the Year Award
Karla M. Pereira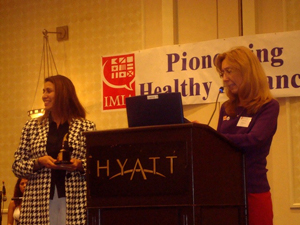 Izabel Arocha presenting Karla M. Pereira with the Interpreter of The Year Award
at the 2009 IMIA Conference
© 2022, International Medical Interpreters Association | Site map


Find us online: