IMIA Distinction in Medical Interpreter Education Awards

One of the most important and widely recognized functions IMIA fulfils for its members is the awarding of IMIA prizes and awards at our Annual International Conferences on Medical Interpreting. Being selected by a national and international jury to receive an IMIA prize or award signifies recognition of the 'best of the best' by one's peers around the globe. Please take this opportunity to nominate outstanding colleagues in the field for the IMIA prizes as recognition of their professionalism and to demonstrate their work and accomplishments in advocating for the profession and for the patients who require interpreters all over the world. Individuals are entitled to nominate one candidate per prize. All IMIA members and others are encouraged to submit nominations.

This award was established in 2010 and recognizes two individuals, one representing the international training and academic environment, and the other representing interpreter training and education in the US. "In many ways, interpreter trainers/educators are the gatekeepers of the profession, because it falls on them to instruct new interpreters in the appropriate practice of this profession, still growing and being established in many institutions. The IMIA Distinction in Medical Interpreter Education Awards will recognize individuals who have excelled in the capacity of guiding and shaping the next generation of medical interpreters", said Hank Dallman, Medical Interpreter Trainer at Robert Wood Johnson Medical School. This award recognizes the need for outstanding interpreter educators as role models across the country and abroad, for improved medical interpreter education. The recipient will be an educator, instructor, or language coach, and the selection will be based on concrete examples of what they have achieved and for the promise of what they will accomplish. The IMIA Distinction in Education Awards have the goal of being inspirational, helping all explore the role standardization of education in the field of medical interpreting. It also promises to recognize latent talent and increase the sharing of innovative strategies that make a powerful impact on students.

Submission Requirements:
a. A description of no less than 100 words with specific examples of why the nominee should win this award (nominee bio preferred but not required)
b. Contact information of nominee
c. Contact information of person making submission
e. All emailed to info@imiaweb.org

---
The Recipient of 2021 IMIA Distinction in Education Award
Americans Against Language Barriers - AALB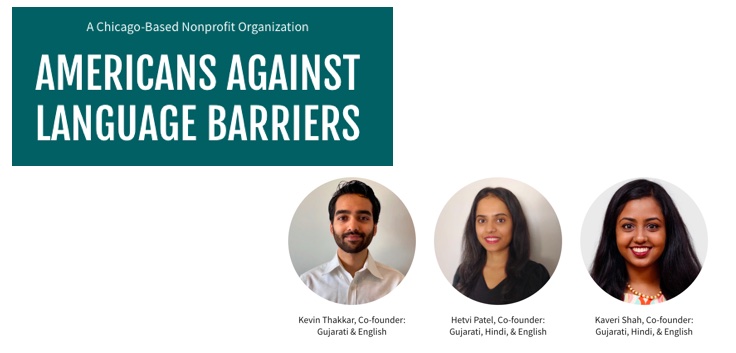 Americans Against Language Barriers has the mission of eliminating linguistic barriers to healthcare access, ensuring that all patients with limited English proficiency have access to the language services they need.
From connecting volunteer interpreters to volunteer-run free clinics, to meeting with legislators to advocate for those with limited English proficiency, Americans Against Language Barriers is working to improve the quality of life of those who may not be able to speak for themselves. We visualize a world in which interpretation and translation services are proactively made accessible to anyone that needs them.
---


The Recipient of 2017 IMIA Distinction in Education Award
Thais Miller

​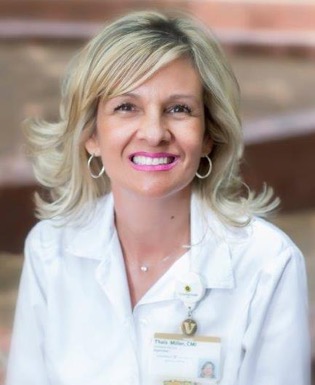 Thais Miller was born in Porto Alegre, Brazil. In 1989, she completed her post graduate education in School Administration at the Associaçao Santanense pro Ensino Superior Teacher's College in Livramento, Rio Grande do Sul, Brazil after earning her BA in Education at the same university in 1986. Thais has 19 years of experience working in the capacities of project management, education and administration in Brazil and Uruguay, South America. In 2002, she was appointed to Secretary of Education by the Mayor of Santana do Livramento. She oversaw the hiring and training of teachers, managed the budgets and coordinated the allocation of resources to ninety-six schools in the city. Thais speaks fluent English, Spanish and Portuguese and is a nationally Certified Medical Interpreter (CMI-Spanish) and member of the Tennessee Association of Professional Interpreters and Translators (TAPIT). She has worked for 9 years at Vanderbilt Interpreter Services, most recently as Supervisor of Interpreter Services. Also, she has worked as a Portuguese Language Instructor at the TN Foreign Language Institute.
---

The Recipient of 2015 IMIA Distinction in Education Award
Sameh Abdelkader
Co-Founder and Education Director of Liberty Language Services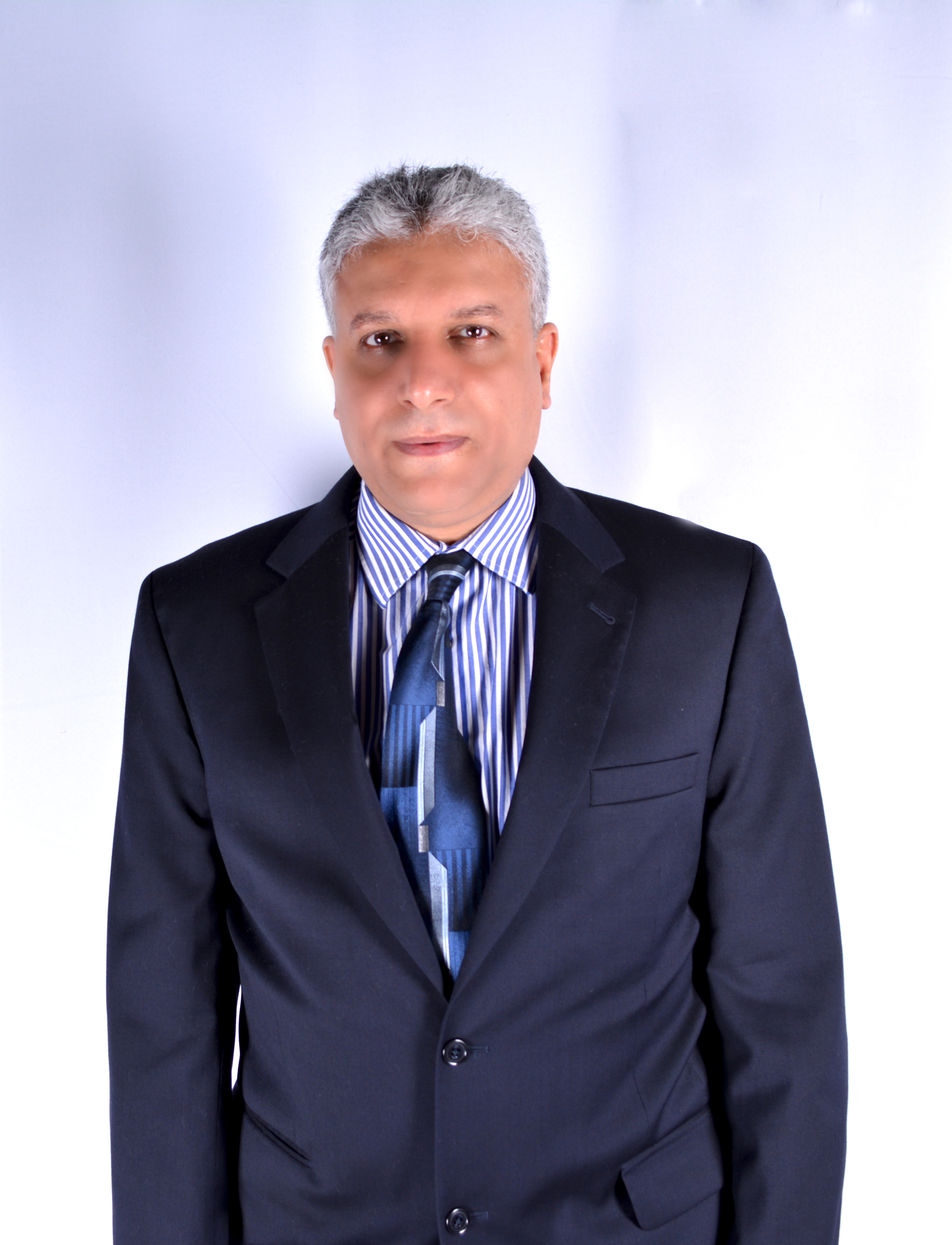 Sameh Abdelkader is the Director of Education at Liberty Language Services, LLC and is a licensed trainer for Bridging the Gap (BTG) and The Community Interpreter. Since 2012, he has delivered the BTG course to over 300 medical interpreter students. He is a licensed trainer for the Language of Justice, Interpreting for Legal Services. Mr. Abdelkader holds a B.A. in English, from Zagzig University in Sharkya, Egypt and has over 20 years of experience in education. He has brought his skills in management, teaching, training, recruitment, and cultural competency to Liberty Language Services, LLC.
He studied ESL methodologies and applying technology in teaching at the Campus of Davis, CA. He studied technology and using computer teaching to promote the methodology of teaching at the campus of Georgia. He was awarded the Best Practice in TEFL from the First Egypt TESOL Convention. He completed the COTE (Certificate For Overseas Teachers Of English) course from the Ministry of Education in Egypt in collaboration with the Integrated English States Agency for International Development (USAID). He was awarded the BEST PRACTICE IN TEFL from the second EGYPT TESOL.



---
The Recipient of 2011 IMIA Distinction in Education Award
Lourdes L. Cerna


Lourdes L. Cerna is a Health Care Interpreter/ Translator/ Trainer with over 30 years of experience in the interpreting field. She has worked for the Los Angeles County Department of Health Services, Language Line Services, Mt. San Antonio College Health Care Interpreter Program as a Lead Instructor, and currently works at Kaiser Permanente. She is also a Consultant for the Western University of Health Sciences Cultural Awareness division. Together with a group of trainers, implemented and trained several community and Health Care Interpreters completely in Spanish, in the 48 Hour HCI training pilot program for the Mixteco Community in Ventura County. Ms. Cerna earned her teaching credentials in Health Care Interpreting from the Los Angeles County office of education and completed the Mount San Antonio College Health Care Interpreter Program. She has also completed the PALS for Health- Introduction to Interpreting for HIV/AIDS Health Care Providers, as well as the Connecting Worlds, Bridging the Gap and LA Care HCI interpreting Training programs. Ms. Cerna is very active in the Health Care Interpreting community, volunteering her time as a active board member for the California Health Care Interpreting Association for the last 10 years.
---
The Recipient of 2010 IMIA Distinction in Education Award
Marianela Mañana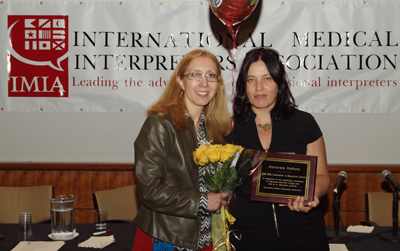 Izabel Arocha with Marianela Mañana after receiving her award at the 2010 IMIA Conference.
---
© 2022, International Medical Interpreters Association | Site map


Find us online: