Welcome to the Maryland Chapter of the IMIA.
The IMIA's goal is for all IMIA Chapters to flourish to meet all the needs of the members of each region. While the IMIA is international it believes in the 'Think Global, Act Local' motto. We will have periodic conference calls to allow members in this region to network and find ways to advance the profession together in the region. Please email your representative with ideas, issues, and topics that you think should be discussed. The IMIA believes that organizing an IMIA Symposium each year in each state should be a key goal of the Chapter. If you are willing to volunteer to assist, please let your representative know.
Events
To find or post medical interpreting conferences or events in Maryland go to:
http://www.imiaweb.org/events/default.asp
Trainings
To find or post trainings and workshops in Maryland go to:
http://www.imiaweb.org/education/trainingnotices.asp.
Interpreters
To find IMIA members in Maryland go to:
http://www.imiaweb.org/corporate/find.asp
Corporate Members
To find IMIA Corporate members in Maryland go to:
http://www.imiaweb.org/corporate/corporatememberdirectory.asp
Registry
To be listed in the IMIA Interpreter Registry go to:
http://www.imiaweb.org/members/application.asp
---
INFORMATION & RESOURCES:
Health Related Organizations in Maryland
http://www.imiaweb.org/uploads/docs/IMIA MD Page_Maryland Organizations.pdf
Language Access: United States Department of Justice Language Access informative presentation, please click on the link below to view.
http://www.justice.gov/crt/pressroom/videos.php?group=2
---
The IMIA is pleased to announce that Roxana Del Barco is the IMIAState Chapter Chair for Maryland.
To reach her, please email
Maryland@imiaweb.org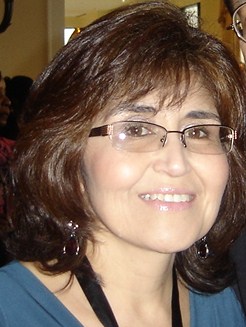 Roxana C. Del Barco, MA, CMI,
with extensive experience in healthcare interpreting and translation, is currently the medical interpretation coordinator for the University of Maryland Medical Center (UMMC). She holds BA degrees in English and Translation from Universidad Nacional de La Plata, Argentina, and a Master's in Intercultural Communications from University of Maryland. She has worked in quality service initiatives and multimedia provider/patient education projects at the Johns Hopkins Institutions and CMS, including a handbook published by WHO. More recently, she's been involved in provider education on language access for LEP populations, having trained over 1,400 residents, fellows, nurses, and staff in the medical campus. She's also the point person for issues involving language rights compliance at UMMC and leads initiatives conducive to that end. A firm believer in consolidating the medical interpreting profession through education and certification, she earned her CMI credentials in 2011 and her Advanced Certificate in Language Access Leadership through IMIA in 2013.
---
State Vice Chair Position Vacant
To Apply Please See Requirements for IMIA Representation:
http://www.imiaweb.org/uploads/docs/Requirements_for_IMIA_Representation.pdf
.
Please Note:
Only one letter of recommendation is required for vice-chairs, not two.
---
© 2017, International Medical Interpreters Association | Site map


Find us online: